Savin Hill Farm & Butchery - Our Farm
Savin Hill Farm - Meet Our Stock
We started farming traditional breeds at Savin Hill back in October 1998, when we took stock of three British White maiden heifers. They were the start of what has since been a passionate devotion to preserving some of Britain's traditional breeds monitored by the Rare Breeds Survival Trust.
Savin Hill is a small farm based in the beautiful Lyth Valley, South Lakeland. We began with four acres of low lying land in 1997. The last eleven years has seen us increase herd numbers, buildings and grazing land within the Lyth Valley, together with building our own on-site butchery. All these elements have given us the flexibility to cope with maintaining highest welfare and quality standards through to continuity of supply with our increasing direct customer base.

Appendix of definitions used on this page:
Boar - Male Pig
Sow - Female Pig who has had more than one litter of piglets
Gilt - Female Pig who has had zero or one litter of piglets
Farrows - When a pig gives birth
Sire - Father of the piglets
Dam - Mother of the piglets
Dummy teats - non lactating teat
Gestation period - three months, three weeks and three days

On the Farm | British White Cattle | Middle White Pigs
British Saddleback Pigs | Hawkshead Brewery
One aim of Savin Hill's is to preserve England's traditional native breeds and promote some of the finest foods available. We breed and rear Middle White Pigs, British Saddleback Pigs and British White Cattle on our farm. We are very passionate about traditional British farm breeds. We are a closed herd with our Middle White and Saddleback pigs.
The highest standards in animal husbandry are of paramount importance at Savin Hill Farm. Our cattle are fully registered pure bred pedigree animals. Our breeding pigs are pure pedigree.
On the Farm
Shaun is responsible for all the farming at Savin Hill. He has over 25 years experience of farming and has been breeding the British White Cattle at Savin Hill for fourteen years and within the last six established the Middle White Herd. 2006 saw the arrival of our 1st Saddleback pigs.
At this time we have three stock bulls, Marmaduke, Paulus and Wesley. Keeping three adult bulls ensures that we can maintain different bloodlines throughout our herd. All animals kept for breeding are given pedigree names individual to each animal.
British White Cattle
The British White Cattle are a Minority Breed. They originally roamed the Forest of Bowland during the 1500's in Lancashire. They were domesticated by the then owner of Whalley Abbey, Richard Assheton in the 1550's. The British White was traditionally a dual purpose breed up until the war however when continental breeds such as the Holstein and Belgian Blue of higher milk and beef yields were imported the numbers began to decline. It was then that the breed became almost purely a beef producer.
There is also a British White Cattle Society in America. Some animals were sent there during the 2nd World War by Winston Churchill in order to preserve the breed. These preservation methods of our farming heritage have been critical in ensuring the survival of most of our traditional native breeds.
We like to promote the breed and encourage farmers to keep higher numbers of the breed, adding to the long term sustainability of British White cattle numbers in the UK. We are members of the British White Cattle Society where if you wish, you can find out more about the breed.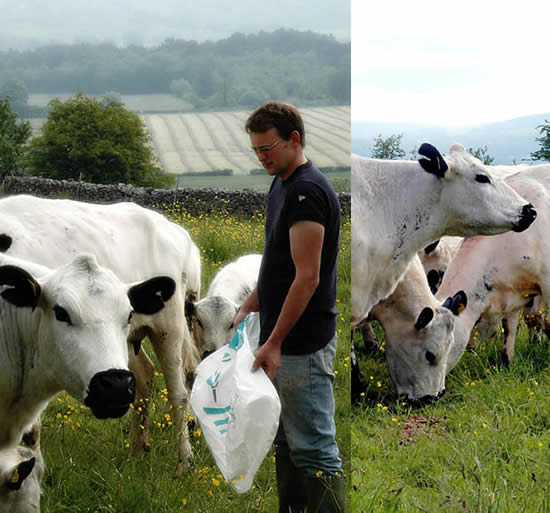 Middle White Pigs
Our Middle White Pigs are usually outdoors throughout the summer months and during the harsher winter months they are housed indoors, bedded on straw (see picture of Rupert and some of our sows below). We maintain daily contact with all our animals on the farm and see this as an integral part of our responsibility as farmers of healthy pigs and cattle.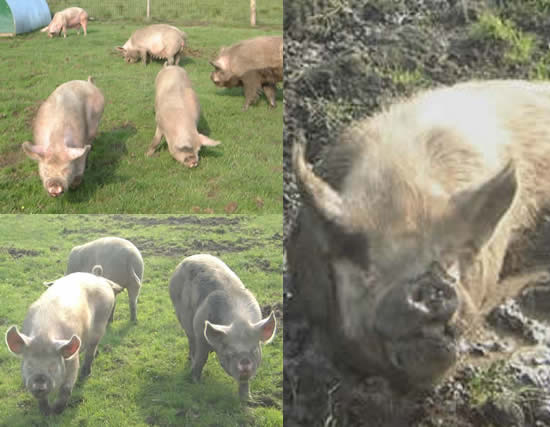 At Savin Hill Farm we have won several awards for the taste, flavour and quality of our Middle White Pork, confirming that it is a traditional porker breed. The Middle White Pigs are a rare breed, the breed was established in Keighley, West Yorkshire by a weaver in 1851. He crossed the then Small White (now extinct) with the more commonly known Large White hence we have the Middle White. The Middle White will have fewer piglets in a litter than hybrid pigs, they are also slower growing which leads to more flavoursome meat.
We keep several Middle White pedigree bloodlines;
| Sow* | Boar* |
| --- | --- |
| Fair Lady | Rajah |
| Purity | Mischief |
| Woodlands Lady | |
| Yootha | |
| Dorothy | |
British Saddleback Pigs

Birth Notification
When one of our sows* farrows* we usually "birth notify" her piglets with the British Pig Association, this must take place before the piglets are 12 weeks old. On Savin Hill Farm the piglets are weaned at 6 to 7 weeks old, it is usually at this stage when we register them and some litters are tattooed. They are tattooed with individual identification numbers and letters in their ear, these piglets are ones that we may decide to keep at a later date. The tattoo uniquely identifies the pig enabling it to be traced back, at anytime, to Savin Hill Farm.
Birth Notification involves completing a form containing information such as the sex of the piglets, the ear tattoo or tag number, the number of teats, the birth weight and weaning weight (6 to 7 weeks old). Also required are the details of the Sire* and Dam*, the service date, birth date, and the weaning date. The Sire and Dam must also have been registered with the BPA before we can register our litter.
If you wish to breed and register pedigree pigs you must be a member of the British Pig Association, you can find out much more about pigs by visiting the BPA website.
Pedigree Registration
As pedigree pig breeders we would select breeding pigs at about 6 months old. This allows us the opportunity to choose pigs with good confirmation, good teat line (no dummy teats*), 14 teats are preferable for Savin Hill Farm. All pigs must walk well on their feet and last but not least, they should have that special x factor.
Pedigree Registration is also done through the BPA. This involves completing a form which has been previously purchased from the BPA. This should contain information about the Sire and Dam, their full names, ear numbers and letters, the date of birth of the pig and its ear number together with information about the breeder.
We are members of the Middle White Pig Breeders Club where if you wish, you can find out more about the breed. The end product is worth waiting for, the pork is flavoursome, moist and finely textured. The loin of pork is extremely good either cut into steaks or roasted in the conventional way.
Hawkshead Brewery
As well as eating grass we feed our livestock on the brewers grains used in the beer making process at Hawkshead Brewery in Staveley nr Kendal. The animals receive a specific amount of the grains every day in their diet.
What does Rare and Minority breed mean?
The Rare Breeds Survival Trust is a body set up to ensure that numbers of traditional native breed farm animals are monitored they therefore help to safeguard part of our farming heritage. There are two sectors which the RBST monitors these are Rare Breed and At Risk. The rare being the breeds that require the most attention and the at risk being breeds who's number have increased sufficiently to require less direct input but still kept under observation by the trust.
The RBST have a particularly good web site where you will find out much more about the breeds we farm as well as other native breeds. The page concerning meat and uses of rare breeds is of particular interest. www.rare-breeds.com